Pakistan vs South Africa (PAK vs SA) 3rd ODI Highlights Full Match:
Pakistan beat South Africa by 28 runs in the final match to win the Pak-SA ODI series 2-1. Captain Babar Azam was awarded the man of the match award for his century knock that enabled Pakistan to set a 321-run target for the hosts.
Pakistan inning
Fakhar Zaman and Babar Azam scored the major chunk of runs with the left-handed opener smashing 101 runs and the captain seeing off the innings with 94 runs under his belt. Fakhar Zaman was also awarded the Man of the Series award for his outstanding performance in the last two matches.
Keshav Maharaj picked up three wickets for the home side and Aiden Markram bested two Pakistani batsmen in his 10-over quota.
South Africa innings
Temba Bavuma won the toss and put Pakistan into bat at the SuperSport Park, Centurion. Bavuma said at the toss, "We looked at overhead conditions and we think in the morning their might be a bit of swing to exploit. Defending here on the Highveld is a challenge."
South Africa had a steady start to the run-chase but stumbled in the middle part of the innings, before Kyle Verreynne and Andile Phelukwayo put up a century stand to get their team back on track.
Opener Janneman Malan, Kyle Verreynne and Andile Phelukwayo all hit half centuries for the home side while Muhammad Nawaz and Shaheen Afridi picked up three wickets each.
Pakistan vs South Africa 3rd ODI Highlights
Now you are going to watch the latest cricket highlights between SA vs PAK 3rd ODII – Mar 20th, 2021. Here you can watch South Africa vs Pakistan 3rd ODII Video Highlights with HD Quality Cricket Highlights.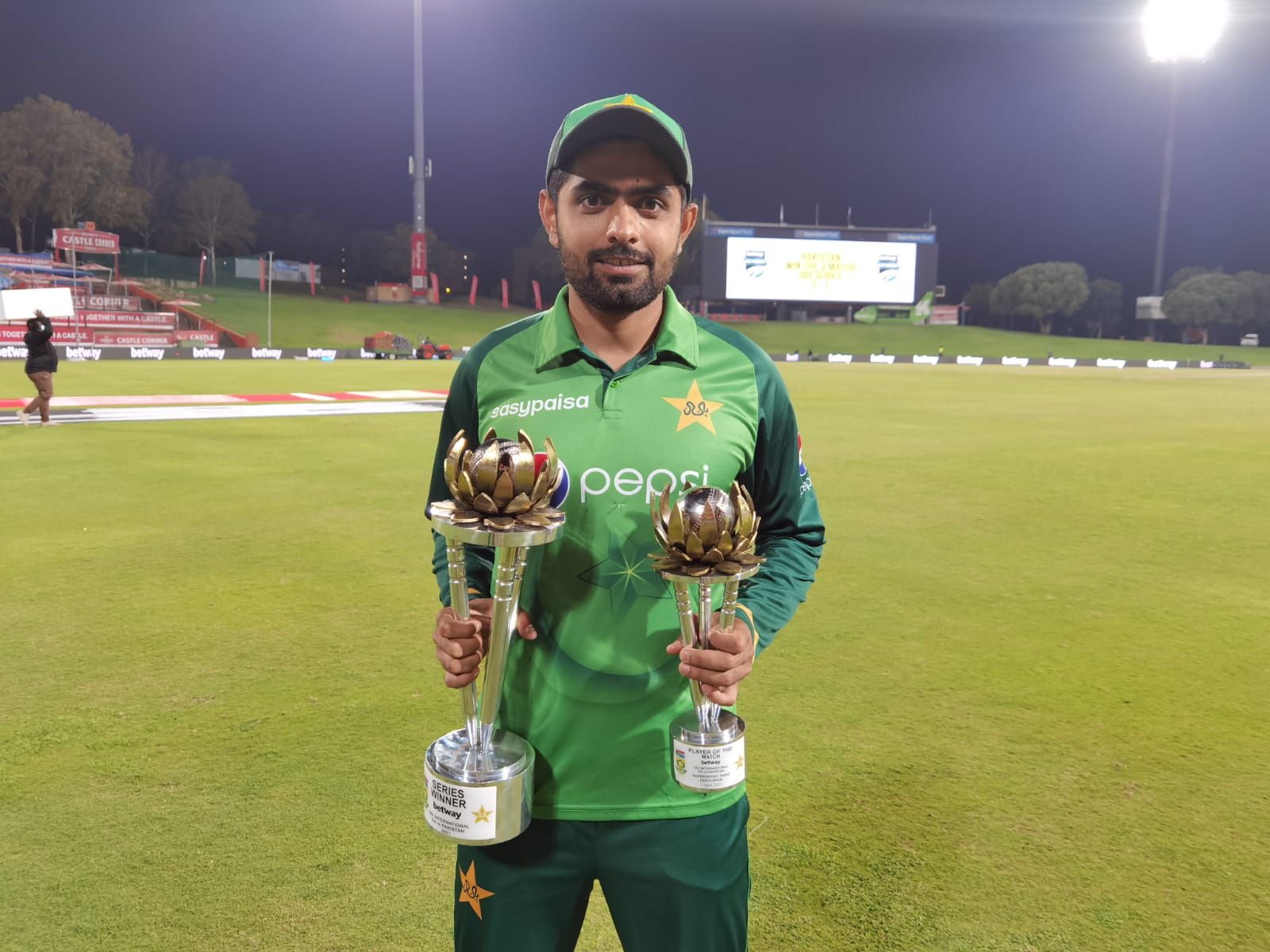 Read also: Pakistan vs South Africa Live Streaming – Live Cricket Score – Where to Watch PAK vs SA 3rd ODI Live on TV
PAK vs SA Today Match Details
Match: PAK vs SA, 3rd ODI Match
Date: 7th April 2021 – Friday
Match Time: 08:00 AM GMT / 10:00 AM LOCAL / 01:00 PM PST
Event: Pakistan tour of South Africa, 2021
Venue: SuperSport Park, Centurion
TV Channel: Star Sports 1/1HD
LiveStream: Disney+Hotstar
Pakistan vs South Africa 3rd ODI Highlights
Part 1

Part 2

HD Part 3

Part 4
Highlights will be Available Shortly.
Pakistan team: Babar Azam(c), Imam-ul-Haq, Fakhar Zaman, Mohammad Rizwan, Sarfaraz Ahmed(w), Mohammad Nawaz, Faheem Ashraf, Hasan Ali, Shaheen Afridi, Usman Qadir, Haris Rauf.
South Africa team: Temba Bavuma(c), Aiden Markram, Janneman Malan, JJ Smuts, Kyle Verreynne, Heinrich Klaasen(w), Andile Phehlukwayo, Keshav Maharaj, Daryn Dupavillon, Beuran Hendricks, Lutho Sipamla.
---
PAK vs SA Scorecard
---
South Africa Batting
South Africa Batting
Runs
Mins
Balls
4s
6s
SR
Total
(49.3 overs)
292 all out
Janneman Malan
lbw Mohammad Nawaz
70
105
81
9
0
86.4
Aiden Markram
c Sarfaraz Ahmed b Shaheen Afridi
18
41
21
2
1
85.7
JJ Smuts
b Usman Qadir
17
26
18
2
0
94.4
Temba Bavuma (c)
b Mohammad Nawaz
20
42
23
2
0
87
Kyle Verreynne
c Usman Qadir b Haris Rauf
62
101
53
3
3
117
Heinrich Klaasen (w)
lbw Mohammad Nawaz
4
18
12
0
0
33.3
Andile Phehlukwayo
c Sarfaraz Ahmed b Hassan Ali
54
85
61
3
2
88.5
Keshav Maharaj
b Shaheen Afridi
19
19
11
3
0
172.7
Beuran Hendricks
c Sarfaraz Ahmed b Haris Rauf
1
7
5
0
0
20
Lutho Sipamla
not out
4
18
5
0
0
80
Daryn Dupavillion
b Shaheen Afridi
17
12
10
2
1
170
Extras
3nb, 2w, 1lb
6
| Pakistan Bowling | O | M | R | W | Econ | 0s | nb | w |
| --- | --- | --- | --- | --- | --- | --- | --- | --- |
| Shaheen Afridi | 9.3 | 0 | 58 | 3 | 6.1 | 30 | 2 | 0 |
| Hassan Ali | 10 | 0 | 76 | 1 | 7.6 | 30 | 1 | 1 |
| Haris Rauf | 9 | 1 | 45 | 2 | 5.0 | 25 | 0 | 1 |
| Usman Qadir | 9 | 0 | 48 | 1 | 5.3 | 24 | 0 | 0 |
| Mohammad Nawaz | 7 | 0 | 34 | 3 | 4.9 | 18 | 0 | 0 |
| Faheem Ashraf | 5 | 0 | 30 | 0 | 6.0 | 16 | 0 | 0 |
Fall of wickets
54
Aiden Markram
8.6
77
JJ Smuts
14.4
127
Janneman Malan
23.2
128
Temba Bavuma
23.5
140
Heinrich Klaasen
27.3
248
Kyle Verreynne
43.4
251
Andile Phehlukwayo
44.4
257
Beuran Hendricks
45.6
272
Keshav Maharaj
47.2
292
Daryn Dupavillion
49.3
---
Pakistan Batting
Pakistan Batting
Runs
Mins
Balls
4s
6s
SR
Total
(50 overs)
320 for 7
Imam ul-Haq
c Kyle Verreynne b Keshav Maharaj
57
96
73
3
0
78.1
Fakhar Zaman
c Heinrich Klaasen b Keshav Maharaj
101
155
104
9
3
97.1
Babar Azam (c)
c Kyle Verreynne b Andile Phehlukwayo
94
121
82
7
3
114.6
Mohammad Rizwan
st Heinrich Klaasen b Keshav Maharaj
2
10
7
0
0
28.6
Sarfaraz Ahmed (w)
c & b JJ Smuts
13
18
13
2
0
100
Faheem Ashraf
c & b Aiden Markram
1
5
2
0
0
50
Mohammad Nawaz
c Temba Bavuma b Aiden Markram
4
10
10
0
0
40
Hassan Ali
not out
32
18
11
1
4
290.9
Extras
2nb, 2b, 9w, 3lb
16
| South Africa Bowling | O | M | R | W | Econ | 0s | nb | w |
| --- | --- | --- | --- | --- | --- | --- | --- | --- |
| Aiden Markram | 10 | 0 | 48 | 2 | 4.8 | 30 | 0 | 0 |
| Beuran Hendricks | 7 | 0 | 38 | 0 | 5.4 | 23 | 1 | 5 |
| Lutho Sipamla | 6 | 0 | 50 | 0 | 8.3 | 14 | 1 | 1 |
| Daryn Dupavillion | 5 | 0 | 30 | 0 | 6.0 | 11 | 0 | 0 |
| Andile Phehlukwayo | 4 | 0 | 37 | 1 | 9.3 | 5 | 0 | 1 |
| Keshav Maharaj | 10 | 1 | 45 | 3 | 4.5 | 32 | 0 | 2 |
| JJ Smuts | 8 | 0 | 67 | 1 | 8.4 | 13 | 0 | 0 |
Fall of wickets
112
Imam ul-Haq
21.2
206
Fakhar Zaman
35.3
214
Mohammad Rizwan
37.1
246
Sarfaraz Ahmed
42.4
249
Faheem Ashraf
43.2
257
Mohammad Nawaz
45.6
320
Babar Azam
49.6
---
Read More: Today Match Prediction – Pakistan vs South Africa 3rd Test 2021 – Dream11 Team Prediction
cricket highlights 3rd ODII / Cricket Highlights South Africa vs Pakistan 3rd ODII video Highlights / SA vs PAK / PAK vs SA 3rd ODI Highlights / SA vs PAK ODII highlights / South Africa / South Africa Cricket Highlights / PAK vs SA 3rd ODI Highlights / South Africa v Pakistan cricket highlights / South Africa v Pakistan Highlights / South Africa vs Pakistan 2021 highlights / South Africa v Pakistan 3rd ODII highlights / South Africa vs Pakistan 3rd ODII Highlights Hotstar / South Africa vs Pakistan Highlights / South Africa vs Pakistan ODII highlights / Highlights of Today Cricket Match South Africa vs Pakistan / Hotstar / Hotstar cricket / Pakistan / Pakistan Cricket Highlights / ODII Cricket Highlights